"Ride with Pride"
Non-profit Fraternal Organization
The sport of motorcycle riding is rewarding and fun. This hobby, leisure activity, fraternal sport, or even job requirement is the primary bond that brings this law enforcement organization together.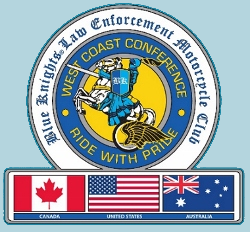 West Coast Conference
The Blue Knights® International Motorcycle Club is divided into world conferences.   The conference is comprised of the 5 Western Canadian Provinces/Territories (Alberta, British Columbia, Saskatchewan, Northwest and Yukon Territories), Northern and Central California, Northern Nevada, the six Northwestern Continental U.S. States (Oregon, Montana, Washington, Wyoming, Idaho and Utah) as well as Alaska, Hawaii, and Australia/New Zealand and pretty much the entire "Pacific Rim" region, excluding Southern California, Southern Nevada and Mexico with over 1650 members.
2019 West Coast Conference, Cody WY

Click any photograph - magically becomes larger!